What is an A&W Restaurant Franchise?
Over a Century of Experience
A&W is not just an iconic root beer brand or restaurant, it's a piece of American history. Established in 1919, A&W restaurant franchise is the oldest restaurant franchise in America. For over a century, we have been a beloved brand, creating memories for families, sports teams, car enthusiasts, and more. Our commitment to quality is evident in our iconic glass mug, which may just be the first-ever merchandise designed for a restaurant. It offers the ultimate A&W root beer experience, a symbol of our dedication to delivering exceptional and iconic products.
Throughout the years, A&W has grown and evolved, as a restaurant brand and a franchise, becoming a leader in the fast-food industry. We have perfected our recipes, ensuring that every bite of our juicy burgers, crispy chicken tenders, and signature  root beer made fresh in our restaurants delights our guests. With over a century of experience, we have developed a proven business model that has stood the test of time and continues to attract loyal customers.
Today, people are seeking familiar tastes and experiences that evoke a sense of nostalgia and warmth. At A&W, we have remained true to our roots while embracing the future. We don't need to manufacture nostalgia, because our brand and menu offerings have been cherished for generations. With the overwhelming majority of consumers (88%) saying that authenticity is important when deciding which brands they like and support, A&W is a stand-out brand with a long history of caring about the communities we serve while offering a genuine, delicious experience.
Flourishing in Small Town, USA
A&W is experiencing incredible growth, with record-breaking sales numbers. One of the reasons for our success is our ability to adapt to a variety of markets. We have discovered a special place in the hearts of communities across small towns in America. In these close-knit communities, the desire for a genuine sense of belonging and connection is even more pronounced. Our franchisees understand their guests on a personal level and become integral parts of their communities. By fostering strong relationships and delivering exceptional service, A&W franchisees create a welcoming environment that keeps fans coming back for generations.
A&W's expertise is not limited to small towns alone. We also thrive in larger, more populated markets. Our brand's popularity extends far and wide, and we have strategically positioned ourselves to appeal to a broad customer base. The A&W franchise can be operated in nontraditional locations and end cap locations, ensuring that customers can access and enjoy our comforting food even while they're on the go. Whether it's a small town or a bustling city, A&W has the versatility to flourish in any market.
John Palumbo, Senior Director of Franchise Development, sums it up perfectly: "Some of our highest grossing restaurants are in towns of 6,000 people, 5,000 people, where we're the 'only game in town.' But that doesn't mean we don't look to develop in some larger markets. We certainly are in larger markets. What's nice about A&W is we have a flexible footprint."
Committed to Supporting Franchise Partners
At A&W, we believe in the power of collaboration and partnership. We value our franchise partners and prioritize their development. Out of all our restaurants, only two are corporate-owned, and they serve as training and testing grounds for new menu items. This means our management team's primary focus is on supporting our franchisees. We understand that our franchise partners are the backbone of our brand, and their growth is paramount to our overall growth.
Franchise partners are not mere bystanders in the decision-making process. They are actively involved in every aspect of the business, and their valuable insights and expertise help shape the direction of our brand. We believe that franchisees know their businesses better than anyone else, which is why they have control over how they want to spend their marketing dollars locally. We provide comprehensive support, guidance, and resources to help franchise partners thrive in their local markets while staying true to the A&W brand.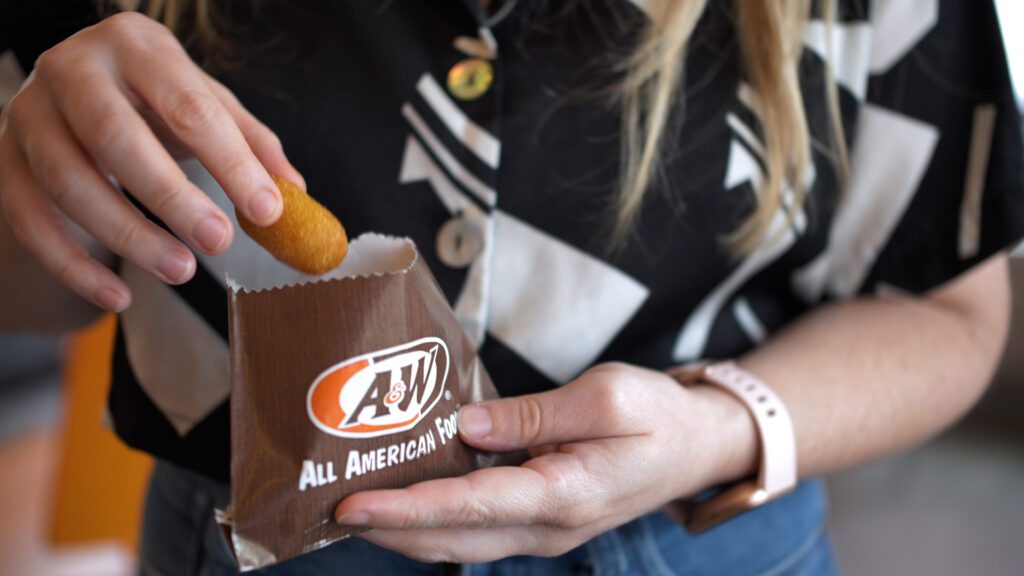 Learn More about the A&W Restaurant Franchise Opportunity
If you're ready to invest in an A&W Restaurant franchise and be part of our rich history, fill out our form here. We'll send you our free Franchise Information Report, which provides more details about the exciting opportunity to join our franchise family. Let's start a conversation about how A&W can help you achieve your entrepreneurial goals. Together, we can continue to create memorable experiences for customers and build a thriving business.