Marketing Made Easy
We're Dedicated to Growing Your Business
At A&W, we understand the importance of effective marketing in driving business growth. That's why we have a dedicated marketing team committed to bringing in new guests while nurturing long-term relationships with existing ones. Our marketing experts are tuned in to the latest trends and strategies, ensuring that our franchisees have the support they need to grow in their local markets
That support begins right away. "We have someone on our marketing team who is solely dedicated to working with franchise partners: our Local Store Marketing Manager," says Liz Bazner, Senior Director of Marketing. "Whether you're looking to do a local value message or you're looking to sponsor a local sports team, or you want to do a billboard or some digital media, whatever that might be, we have one point of contact for you to reach out to who will help you through that process."
Equipping Franchisees in Marketing
We believe that our franchisees know their communities best. That's why we empower our franchise partners to make marketing decisions that align with the specific needs and preferences of their local markets. You have control over how you spend your local marketing dollars, allowing you to implement strategies and initiatives that resonate with your guests. This localized approach ensures that your marketing efforts are targeted, effective, and in tune with the unique characteristics of your community.
Engaging with the Community through Events
Community events play a vital role in fostering strong connections and generating brand awareness. At A&W, we encourage our franchisees to actively engage with their communities by participating in local events, such as local sports games, car shows, charity events, and more. These events not only provide an opportunity to showcase your A&W restaurant, but also create lasting memories and meaningful connections with your customers. By becoming an integral part of the community, you'll establish a loyal customer base that continues to support your business for years to come.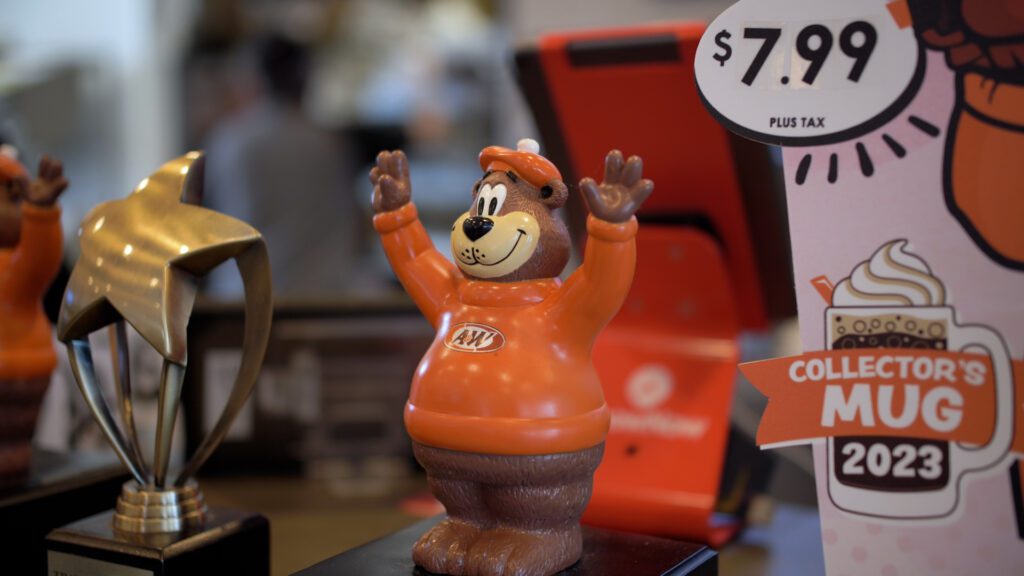 Our Beloved Mascot
Our guests have a special affinity for Rooty the Great Root Bear, A&W's beloved mascot. Rooty embodies the fun and nostalgia associated with our brand, and has become an icon that resonates with fans of all ages. We have leveraged Rooty's popularity by making him our representative on social media, engaging with our customers and creating memorable experiences online. With Rooty as your ally, you'll have a lovable mascot that adds charm and personality to your marketing efforts, further enhancing the connection between your A&W restaurant and your valued customers.
"One of the first projects I worked on for A&W was to bring Rooty out of hibernation," says Liz Bazner. "We felt it was criminal that we were not using our mascot more, so we put him in charge of our Twitter account. We use him in a lot of our marketing now. It's a little bit whimsical, it's a little bit silly, but people have a really strong attachment to Rooty."
Invest in an A&W Restaurant Franchise Today
If you're seeking a franchise opportunity that offers easy and effective marketing support, look no further than A&W. With our dedicated marketing team, community-focused events, and the freedom to shape your marketing strategies, you'll have all the tools you need to grow your business and create lasting memories for your customers. Fill out our form here to learn more about becoming an A&W franchisee and embark on a rewarding entrepreneurial journey with a trusted and iconic brand.